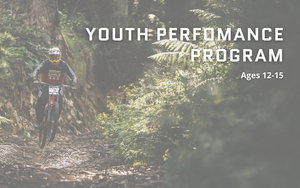 2023 Youth Performance Program
If you have a young rider aged 12 -15 who is looking to elevate their riding, increase stamina/endurance and confidently ride intermediate to advanced terrain - this is the right program!
Check out the full program details here.
AGES
Suitable for youth ages 12 - 15 who are already confident on a bike. We will be working with riders to develop their skills so they can ride better, faster and safer on intermediate to advanced terrain.
DATES + DETAILS
This program runs for 2 consecutive weeks in July and includes 32 hours of coaching. For dates, a detailed schedule and full program details please click here.
July 6, 8, 9, 13, 15, and 16
COACHING
Group sizes are small and the program is run by a team of experienced coaches and outdoor education professionals. To meet our awesome crew, click here.
QUESTIONS?
Please feel free to get in touch. We will be happy to help you out!
Registration Instructions
* When registering, please enter your child's name in the box provided. 
* If registering multiple participants, repeat the process after you add your order to the cart.
Once registered, you will receive a follow up email with more details and instructions before the program begins.