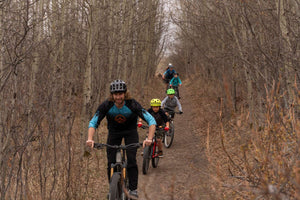 2023 Young Riders
This fun program is suitable for kids ages 6-11.
We're passionate about creating confident riders through skill development & application on mountain bike terrain and safe progression under the supervision of mature, experienced coaches.
Check out the full program details here.
AGES

Suitable for ages 6 - 11. Kids are split into two groups (6-8) & (9-11).  
Before you check out, please read the skills descriptions and select the level that best describes your child. 
DATES + DETAILS
This program runs from Monday to Thursday. Each day consists of 3 hours for a total of 12 hours coaching. Riders aged 6-8 will ride from 9am to 12pm. Riders aged 9-11 will ride from 1pm to 4pm. If you haven't already, please check out the full details here.

July 10 to July 14 - Trinity Hills
July 17 to July 20 - Fish Creek Park
July 24 to 27 - Trinity Hills
August 14 to 17 - Trinity Hills
COACHING
Group sizes are small and the program is run by a team of experienced coaches and outdoor education professionals. To meet our awesome crew, click here.
QUESTIONS?
Please feel free to get in touch. We will be happy to help you out! 
Registration Instructions
* Use the drop down menus to select your age group and program dates.
* Please enter your child's name in the box provided and select their skill level.
This way we can ensure your child rides with kids of similar abilities when the program begins. If you are registering multiple participants, repeat the process after you add your order to the cart. 
Once registered, you will receive a follow up email with more details and instructions before the program begins.