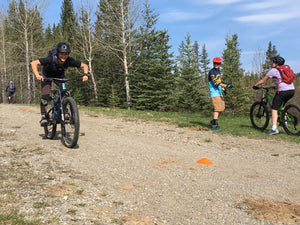 2023 Weekend Skills Program
Looking to work on your skills early in the season? The Weekend Progression Series is for you! Our co-ed clinics are structured to give you the tools you need to progress as a rider. We have weekend clinics for all levels. For detailed information on our skills clinics, head over to the Weekend Skills Program page. Not sure what level is best for you? Check out the Rider Level Guide.

Here is what you need to know:
Weekend Skills Programs are 2 x 3 hour sessions on a Saturday and Sunday. Session run between 9 and 12 or 1 and 4, depending on the course you sign up for. You can choose your course from the drop down menu.
The ratio of coaches to clients is a maximum of 1:6.
They are fun! We do a lot of drills and skill development but we do hit the trails as well. 
Participants will receive an email with location and meeting details approximately 1 week before the first day of the Series.
If a session is full, send us an email and we'll see what we can do!
LEVELS AND DATES
June 3/4 - Level 1-2, 9am-12pm

June 3/4 - Level 2-3, 1pm to 4pm
June 10/11 - Level 2-3 

9am-12pm

June 10/11 - Level 2-3 1pm-4pm
June 17/18 - Level 3-4 9am -12 pm